Edwards Institute for Exceptional Physiology
Faculty of Medicine
1123 Potential Ave.
Montreal, QC,
Canada
E3Y 2A6
800.420.2323
cwdt@gmail.com
Issue 23 arrives soon!
The 23rd edition of the Journal of Exceptional Physiology will be available tomorrow. FOCUS: Social implications of GMP in tribal societies of the Ivory Coast region.

Version 2.0 of the website now up!


Short Term Clinical Outcome of a Transcutaneous Implant for the Treatment of Advanced GMP Smegmal Formation
GMP Smegmal Formation, previously named mammovascular

necrosis, is a naturally progressive disease typically affecting younger individuals...

> Emergence of GMP in Children of Sensari District of Eastern Nepal


Embryonal Gynomammophallitis and Soft Tissue Abnormalities

| | |
| --- | --- |
| Soft tissue abnormalities are classsified according to the tissue they appear as: such as muscle, fat, fibrous tissue, vessels and nerves. Gynomammophallitis is the most exceptional soft tissue abnormality... | |

> GMP reversal: The physiological and sociological consequences of radical surgeries and the need for post-surgical intervention.


Memorial Quilt Assembled in Washington, D.C.
For the first time since its design in early 1988, the Gynomammophallitis Memorial Quilt has been
fully assembled at the Washington Monument for a week-long ceremony celebrating the struggles and triumphs of individuals with GMP from around the globe. Newly appointed U.N. Secretary General Ban Ki-Moon will be making...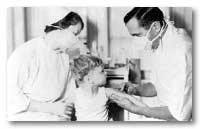 Memoirs of early GMP research
A fascinating look at GMP research through the eyes of early pioneers. The Edwards Institute has opened its collection of personal letters, telegrams, and photoplates of some of the most prestigious figures from varying fields in...

CWDT: Empowerment or Embarrassment?
Author and scientific watchdog Alabaster Inception unlesashed a double-headed gorgon of controversy in 1972 when he casually referred to sufferers of GMP as 'Chicks With Dick-Tits". Americans were instantly polarized, some claiming that the term empowered women, others that we were destroying....


Mammographic Assessment of Gynoglans-111 Tissue - A Marker of GMP Progression
| | |
| --- | --- |
| Both infant and late-onset GMP are well known to be more prevalent in obese individuals than non-obese individuals. More... | |
> Is there a Need for Neonatal Screening of GMP in Canada?
> Protective Immunity Against GMP Neoformans Infection

> Personalized Medicine and the Treatment of GMP in the 21st Century
> Unique Assessments and the Cutlerian Model for Diagnosing to Greatest Specificity
> Personalized GMP Medicine : Challenging Pharmaceutical and Diagnostic Company Business Models