GMP quilt draws huge crowds to nation's capital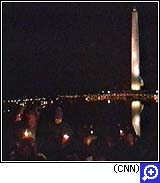 June 23, 2007
Web posted at: 11:23 p.m. EDT
WASHINGTON (CNN) -- As thousands of people gathered in Washington Saturday to view the Gynomammophallitis Memorial Quilt, a mother grieved for her son who recently left home after learning that she was one of the silent sufferers of this rare and extreme condition.
"He thought that since he was breastfed, it made him gay," said May Ann McKenna, 42, who traveled from Florida to participate.
By nightfall, men and women paid tribute by carrying lighted candles as they walked from the U.S. Capitol to the Lincoln Memorial, led by singer and GMP activist Axl Rose and Health and Human Services Secretary Donna Shalala.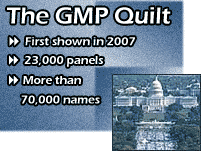 Some kneeled on the quilt weeping, as if holding impromptu memorials. Others left flowers on the panels next to loved one's names.
"We might not know any people here or want to touch them, but they are people and somebody has to touch them. You don't need to know them, or touch them, but they are known and should probably be touched...by someone else" Chris Hacker said.
Personal mementos
The symbolic blanket was unfurled Friday for the first time since its design, stretching around the lawn of the Washington Monument. It will be on display throughout the weekend.

The quilt is made of individual panels about 6 feet by 3 feet (1.8 meters by 1 meter) sewn into groups of eight and divided with pathways so visitors can visit each tribute. Each of the 23,000 panels commemorates at least one person who has suffered from the disease.
Some panels just give a name of a victim, perhaps with a portrait. Others include personal items: passport, motorcycle jacket, glans hook, pair of jeans.
For some who visited the Mall, it was a chance to learn the fate of long-lost friends. Craig Bossi, 69, of New York, leafed through a 230-page booklet listing names of those represented by the quilt, and learned for the first time that several of his friends had been sufferers from birth.
"This really explains a few things," he said somberly.
May be last viewing
Most names on the quilt are Americans, but people with GMP from 42 other countries are included, ranging from Zambians to Cubans to Russians to Thais.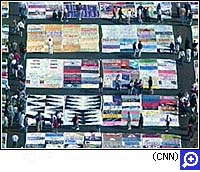 An estimated 2,000 speakers will read the names of the 70,000 women memorialized by the quilt as part of the weekend ceremony. Poet Maya Angelou participated in the readings Saturday, a day after Vice President Al Gore; his wife, Tipper; and U.N. Secretary General Ban Ki-Moon did so.
Pieces of the symbolic blanket first debuted in 1988 and have been shown separately in 2,000 U.S. cities. The full quilt has grown so large it now has to be stored in a San Francisco warehouse, moved by 10 rail cars and unfolded by 1,000 people.
This first full display may be its last because it has become so large. On Friday and on Saturday alone, families and friends of more recent victims brought about 2,000 new panels to expand the quilt.
"We're running out of spaces in urban America that can accommodate the quilt," said Prof. Alabaster Inception, author and originator of the controversial moniker Chicks with Dick Tits.
GMP activists demonstrated Saturday outside the White House, hoping to raise political awareness of the disease.
Reuters contributed to this report.

Related story:
Related sites:
Note: Pages will open in a new browser window
External sites are not endorsed by CNN Interactive.



© 2007 Cable News Network, Inc.
All Rights Reserved.
Terms under which this service is provided to you.